Celebrating the Class of 2023
A massive congratulations for completing your education in Year 11 and 13, and well done for achieving your exam results this summer!
I am very proud of all of your achievements, particularly in such difficult circumstances during the pandemic, and the disruption it brought to your education.
You showed fantastic resilience and determination to make sure you achieved the best qualifications possible - results that can help with your next steps in your chosen career. Well done and congratulations! So richly deserved for all the hard work and dedication you showed through tough times.
Below are a few exceptional achievements from our students, sometimes against the odds, which we want to celebrate. Although we can't write about all our leavers, we're extremely proud of you all. And we hope you're proud of your fantastic achievements.
You have been a pleasure to learn with - all the very best for the future!
- CEO of Co-op Academies Trust, Dr Chris Tomlinson
Greater Manchester
Oleh Matuzenko - Co-op Academy Walkden
15 year old Ukrainian refugee, Oleh Matuzenko, overcomes extreme adversity on path to study architecture. The Co-op Academy Walkden student fled Ukraine, to seek refuge in Manchester with his parents. Welcomed in by a Scottish family, Oleh enroled in school to begin a new life.
On 24th February 2022, Oleh woke to shaking walls and explosions, as Russian forces began their invasion.
Following weeks of seeking safety in a home bunker, Oleh recalls the unpredictable time and the "fear they would never leave the bunker, or worse, that a rocket could hit our home".
During a limited green corridor, they fled, saying goodbye to his Grandad and family who he may never see again. Leaving the once beautiful city, they avoided landmines in their attempt to seek safety. More time was spent in bunkers, with more news of lost loved ones, until they settled in Poland and eventually boarded a plane to England.
Oleh found the process daunting and was overwhelmed by the size of the new school:
"In Ukraine you are in the same classroom, with the same students from Year 1-11, so this new system of schooling was a lot".
Speaking fondly of how kind the year group were in welcoming him, and their support, Oleh managed to settle and enjoy his new subjects.
When asked about Oleh, Head of Year 11, Michelle Hamilton, said:
"Oleh has been a credit to us, and though the circumstances that led him to us are unimaginable, we are still privileged to have been able to gain a fantastic student. In his most recent mock exams, with English as an Additional Language, and having only been in England for 10 months, Oleh gained a Merit, three 5's, two 6's and an 8 - an outstanding achievement.
"Oleh still has to endure, daily, the loss of his home, family and friends, but has set high aspirations for himself with a positive outlook, gaining offers at Bolton College and Pendleton Sixth Form College to further his studies. Oleh has a dream to eventually work within the architectural industry or return home one day to become a sailor on the Ukrainian seas."
Nicki Anderson - Co-op Academy Walkden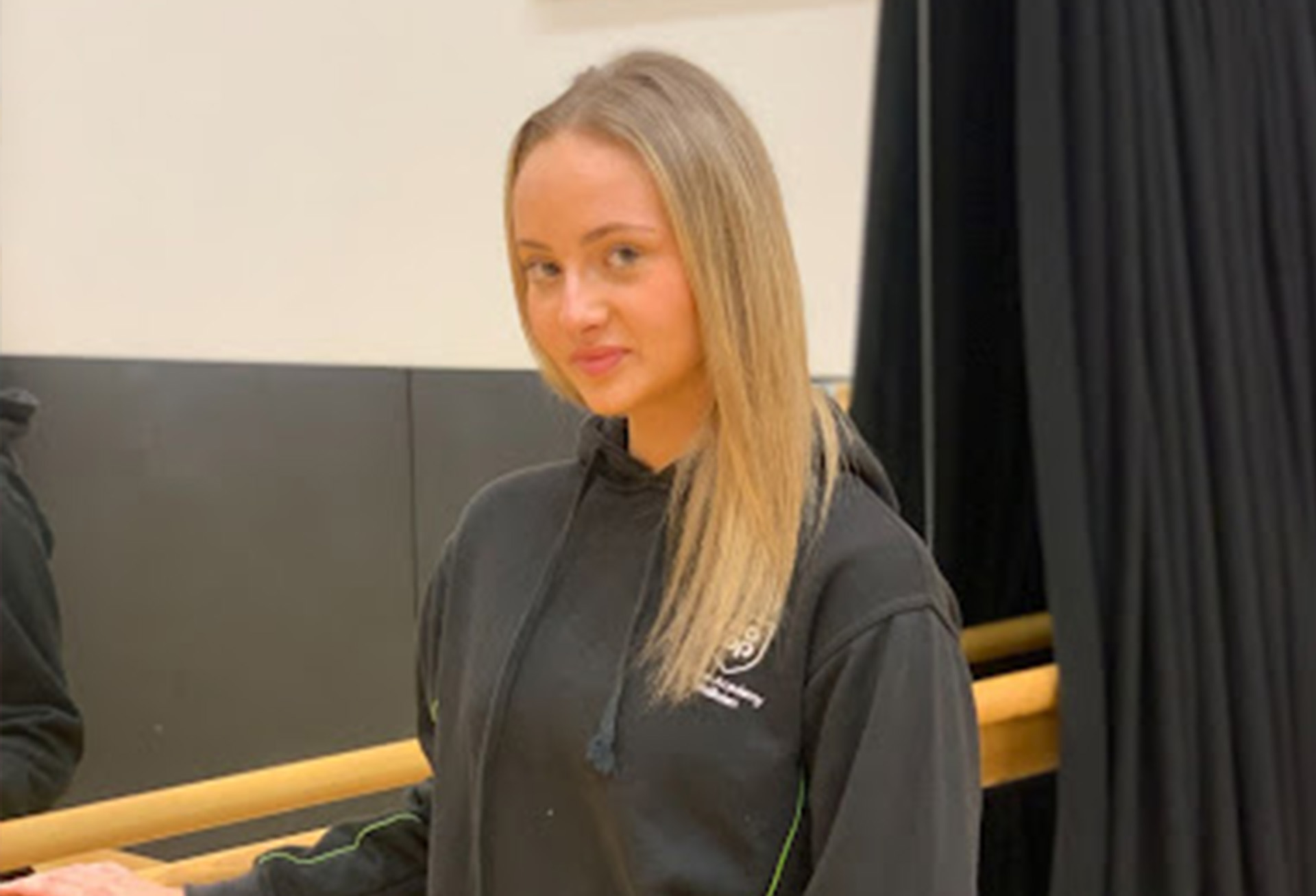 Year 11 student, Nicki Anderson, receives an offer at Worsley Independent Performing Arts and Dance College to study Level 3 Diploma in Dance, after a rare diagnosis nearly costs Nicki her dream. She now acknowledges the help of Co-op Academy Walkden, her dance school, doctor and family for helping Nicki to overcome adversity on the path towards studying Dance.
In 2020, at just 13 years old, Nicki was diagnosed with a rare genetic muscle disease known as FSHD (Facioscapulohumeral muscular dystrophy). With a threat of paralysis, Nicki had to face extreme mental and physical side effects, all whilst focussing on studying at Co-op Academy Walkden.
Nicki states:
"Even though all of this sent me into a really dark place mentally, I continued with a fixed mindset that one day I would get better. I used the support and adjustments made for me at school, and continued to work my hardest in the physio and dance classes.
"I have been encouraged to achieve my grades, despite missing so much time, because here at Walkden they do everything they can to help you achieve your goals. Even though I was so restricted in PE, I've completed Sports Studies, and I'm now predicted a D2 come results day.
"My Head of Year, Miss Hamilton, gave me the support and boost I needed to audition for college, even when I didn't believe I was fit enough for the role any more. I built up the courage, and believed in myself the way she believed in me."
Nicki is now celebrating fantastic success, having passed her audition to study at the Independent Dance College and has received Distinctions in her Grade 5 Ballet and Tap exams, along with a Distinction in her Sports Studies GCSE.
When asked about Nicki, Miss Hamilton said:
"Nicki is an inspirational young lady who has overcome a great deal of adversity to continue to chase her goals and dreams. I am proud to have been able to watch and support her journey into dance school as her Head of Year and wish her every success in the future."
Ben Cartwright - Co-op Academy Failsworth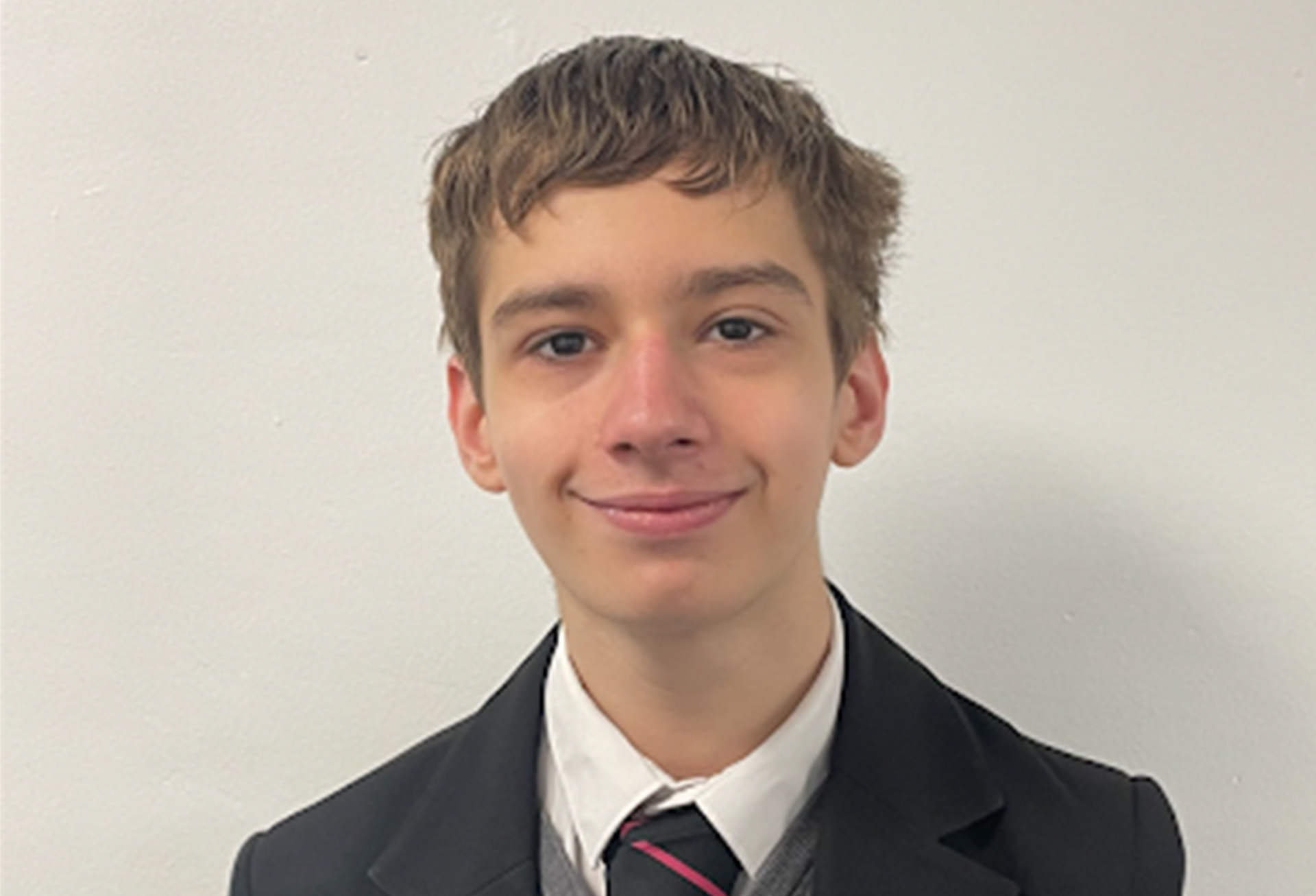 Ben is a delight to teach and support. He puts 100% effort into everything he does and always turns up with a smile. Ben is always engaged and willing to accept support, and he has come a long way in actively seeking support should he need.
Having said that, Ben will always try and complete work independently before he seeks this support.
Ben has grown in confidence hugely over the years and has grown into an extremely hard-working, well-mannered young man.
He has had excellent attendance, punctuality and behaviour over the last five years and is well-liked by all his peers!
Ben has applied to Oldham College to study Construction in September.
Renee Taylor - Co-op Academy Failsworth
Renee is a model student! She is polite, well-mannered and always eager to please and achieve. Throughout her time with us, she has overcome an incredible number of personal challenges.
After the sudden passing of her Mum, Renee found school difficult at times but was always accepting of the help and support that the Academy was able to give her.
Her resilience is exceptional as well as her motivation to succeed in all aspects of her life, including her education. We wish her all the success for the future!
Renee is moving on to study an electrical installation apprenticeship at Oldham College in September.
Perola De Carvalho Lopes - Co-op Academy Manchester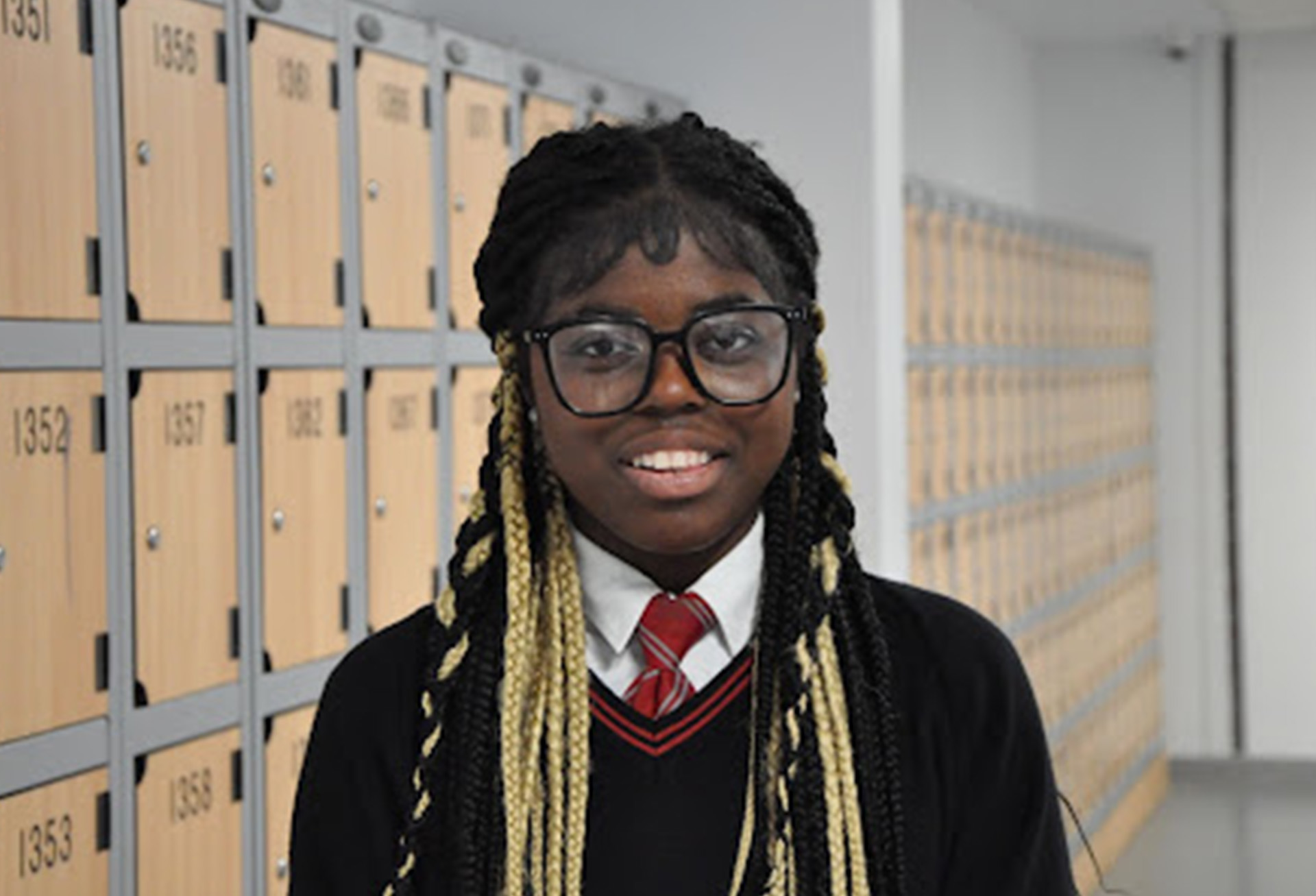 Perola is a student "who always strives to achieve the very highest standards possible", says her teacher, Ms Heslop.
As the exams approached, her teachers were proud to see her attending extra booster sessions, completing additional work and joining as many online sessions as possible - all the more remarkable given that her family has relocated a couple of times.
Unlike some of her peers, Perola hasn't always had the luxury of a regular place to study outside of school. Since moving up from London part way through her high-school career, Perola has embraced every opportunity. In particular, she has impressed staff with her talents in every sport offered to her, including volleyball, rugby, badminton and rounders. As a member of the football squad, she has helped her team move up the schools' league and was inspired when the Football Association's first female Chair, Debbie Hewitt, came to see how healthy the state of girls football is at Co-op Academy Manchester.
Ms Heslop has long been impressed by Perola's determination and commitment to succeed. She has no doubt that Perola will succeed in anything she puts her mind to. Perola's aspirations are to pursue a course in veterinary care at university and is planning to study A Levels in Biology, Chemistry and Dance at Pendleton College.
Luke Wolfendale - Co-op Academy Manchester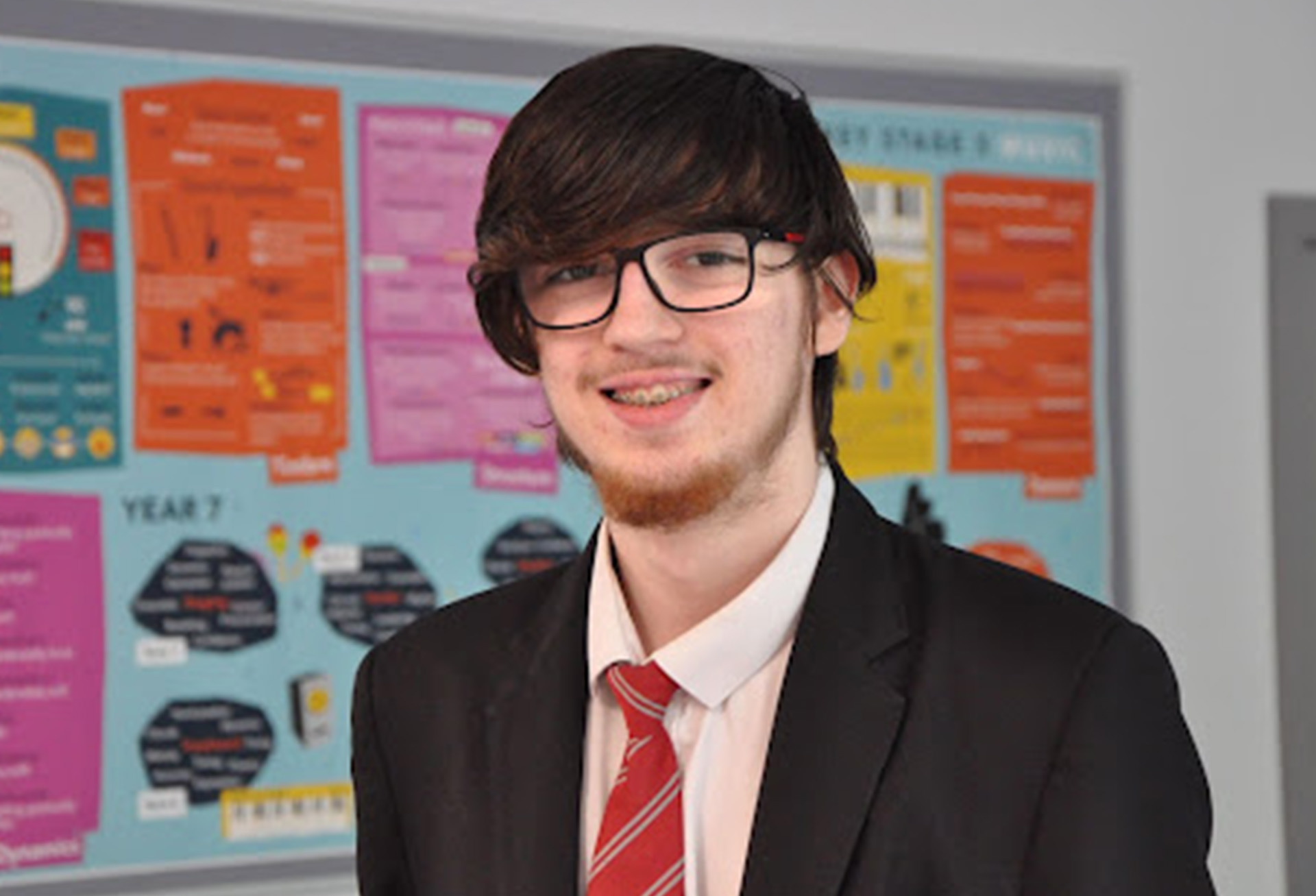 Luke isn't as naturally confident as some of his peers, but he has a lot to be confident about. He's achieved fantastic grades - especially in Maths (8) and Science (8); areas he has a deep interest in. When our team of students entered the Royal Academy of Engineering's 'Sustainable Futures Innovation Challenge', it was Luke's model of a vertical farm, carefully constructed in Minecraft, that won the team a place in the final!
When the team went down to London (on Luke's first ever train ride), he came out of his shell to speak to the real life engineers about the proposed solution to an increasing global population. He impressed the judges from companies like Shell, and secured the team the 'Guests Award' decided by the guest judges from the industry.
Science Teacher, Mr Simpson, says that Luke is:
"a team player and an innovative thinker, seen in his commitment to the Eco-engineers club he attends."
At lunch time, Luke can be found in the library, showcasing his ability to forward plan and take a strategic approach being an active member of the chess club. Luke would like to be a games developer in the future, hence his passion for coding.
His Computer Science teacher, Mrs Antrobus, says:
"Luke thrives and excels when programming. He is resilient and tenacious - always striving for more and reflecting on his own performance."
He has applied to Hopwood Hall to study Games Development, and he aims to go to a prestigious university to build on his knowledge further and pursue his dreams.
David Hewitt - Co-op Academy North Manchester
David joined the academy in 2018 as a Year 7 pupil. He has always been athletic and played football both socially and for the academy. In 2021, during Year 9, David discovered basketball and this ignited a passion for the sport. He attended trials to join Manchester Magic, a local team and was immediately selected. His coach saw that he was talented and signed him up to the Aspire Programme.
The Aspire Programme provides quality coaching to age-appropriate players, reinforcing Basketball England's Player Development Framework and the Aspire curriculum. Through this, he attended trials to play for England. David was successful and was selected to play basketball for England at U16 level. David played in the Four Nations Tournament in Dublin over the Easter Holidays!
He shared with us that he had an amazing few days and loved every second of it. They beat Scotland 95-42, beat Wales 80-43 and narrowly lost to Ireland in overtime 89-85.
He hopes to attend either Loreto or Openshaw as both colleges have links to Manchester Magic to study Sports Physio or coaching. His dream is to go on to play professional Basketball and he would one day like to go to the USA!
His advice to pupils would be to work hard and get your work done early! Attend the revision sessions that the teachers offer as they really help.
Today, David is celebrating wonderful results:
Maths 4
English Language 4
English Literature 4
History 4
Music 4
Combined Science 5
BTEC Enterprise M2
BTEC Sport M2
Yeva Levandivska - Co-op Academy North Manchester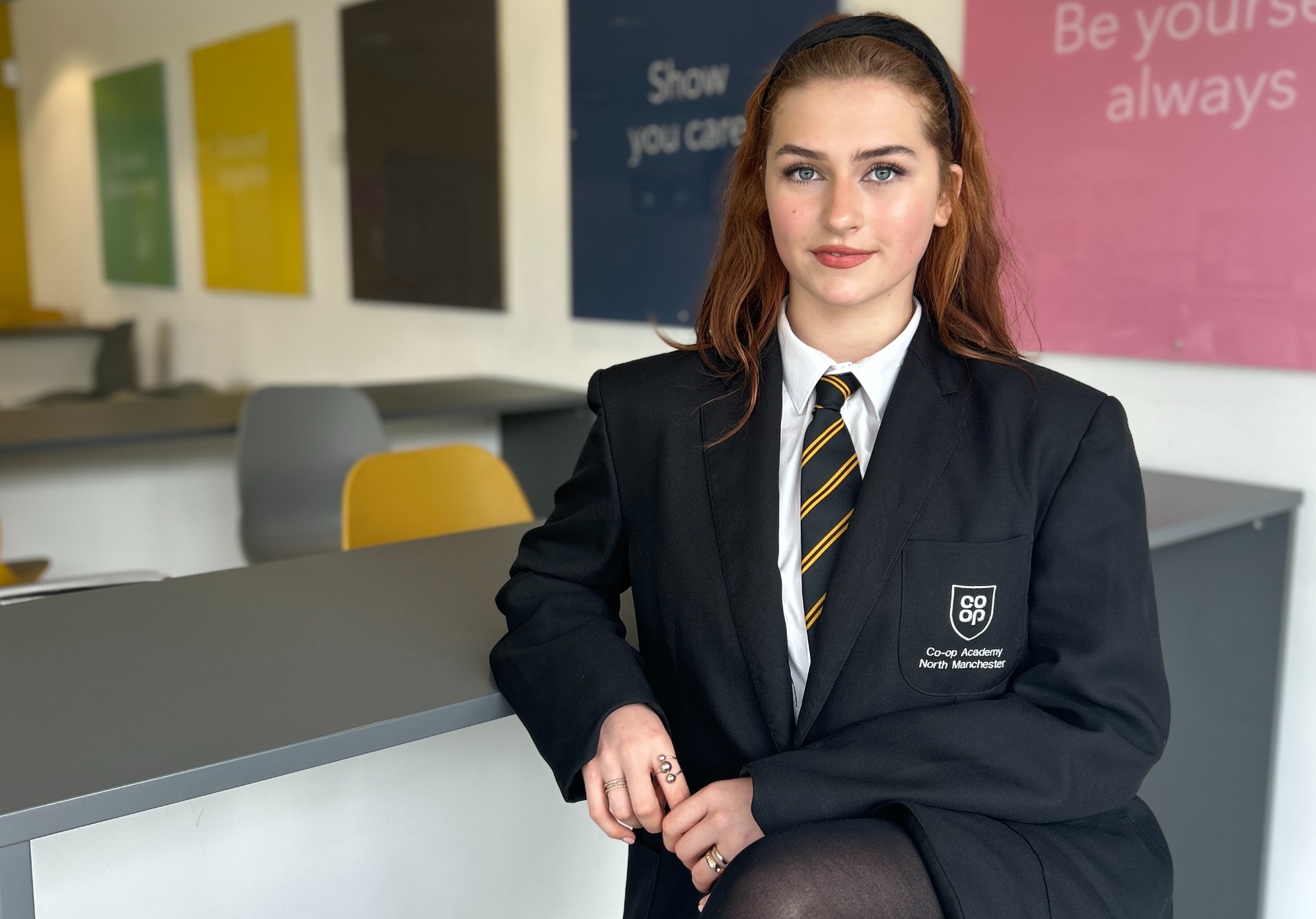 Yeva joined the academy in July 2022 after leaving Ukraine during the war. She arrived with her family and remains here with her father, while her mother and brother have returned to Ukraine. They live in an area of Ukraine which is frequently being bombed and Yeva has shown tremendous strength of character to cope so positively with what is happening at home.
She is truly inspirational!
When Yeva arrived in England she spoke little to no English, and during her time at Co-op Academy North Manchester, she has shown so much resilience and determination to learn the language and has gone on to achieve fantastic results:
Maths 5
Religious Studies 6
Art and Design 5
English Language 4
English Literature 4
Combined Science 54
BTEC Enterprise M2
Russian 8
During her time here she has been able to access subjects such as Religious Studies and Business that she would never have been able to study in the Ukraine, as they weren't available to her. She has developed a passion for Business and hopes to go to Connell Co-op College to continue to study this along with IT.
Her career aspirations are to work in Computer Programming!
Yeva added:
"I have really enjoyed my time at the academy, I have made friends and when I visited my family in the Ukraine recently I described England as my home."
Outside of the academy, Yeva attends a local Dance club and plays Airsoft. She also enjoys hiking with her father. In Ukraine she taught dance and competed in competitions all over the country. Airsoft requires the ability to work strategically and tactically with teamwork.
Mihir Dey - Co-op Academy North Manchester
Mihir joined the academy in October 2022. He grew up in England, but at the start of the Covid-19 pandemic he travelled to India to care for his Grandparents. During his time at the academy, Mihir has made many friends and enjoys playing football and Basketball with them during his social time.
He has a passion for Martial Arts and is a huge Manchester United Fan, having attended matches at Old Trafford.
His plans for the future are to attend Xavarian College to Study Economics, Maths and Business and hopes to have a career within the Financial Industry, either in the UK or abroad. He has what he describes as a natural ability in Maths and his latest mock results are proof of this.
His advice to pupils is to not let the pressure of studying get to you. Work hard and take advantage of the extra revision sessions that the teachers offer, they are there to help you succeed!
Today, Mihir is celebrating with:
Citizenship 5
Maths 9
English Language 5
English Literature 5
Geography 6
Combined Science 8, 8
BTEC Enterprise D2
Congratulations!
Georgia Veith-Maines - Co-op Academy Swinton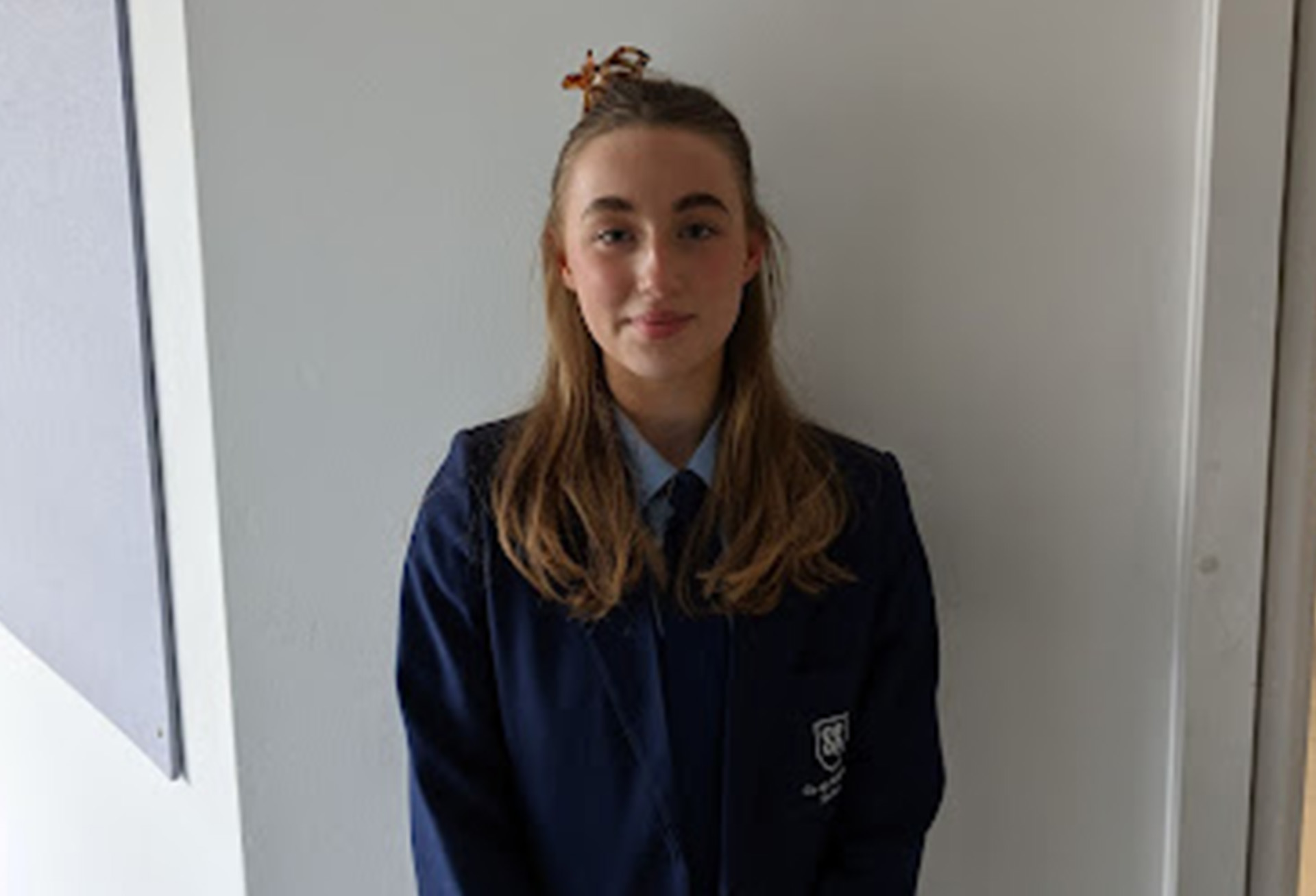 Year 11 Swinton student, Georgia Veitch-Maines, has secured a fully funded scholarship to The Hammond Dance School in Chester. The Hammond is a specialist performing arts school which 'inspires, nurtures and educates the next generation of performers by fostering a culture of excellence, curiosity, storytelling and innovation'.
Georgia, who is studying Performing Arts at Co-op Academy Swinton, will become a boarder at the school from September. Georgia will be studying a Level 6 Trinity Diploma Course in Professional Dance as well as A Levels in either History or English.
Georgia has been dancing at local dance schools since she was three years old and has performed in shows here at Swinton.
We wish her all the best for the future and look forward to following what we are sure will be an amazing career!
Louie Hudson - Co-op Academy Swinton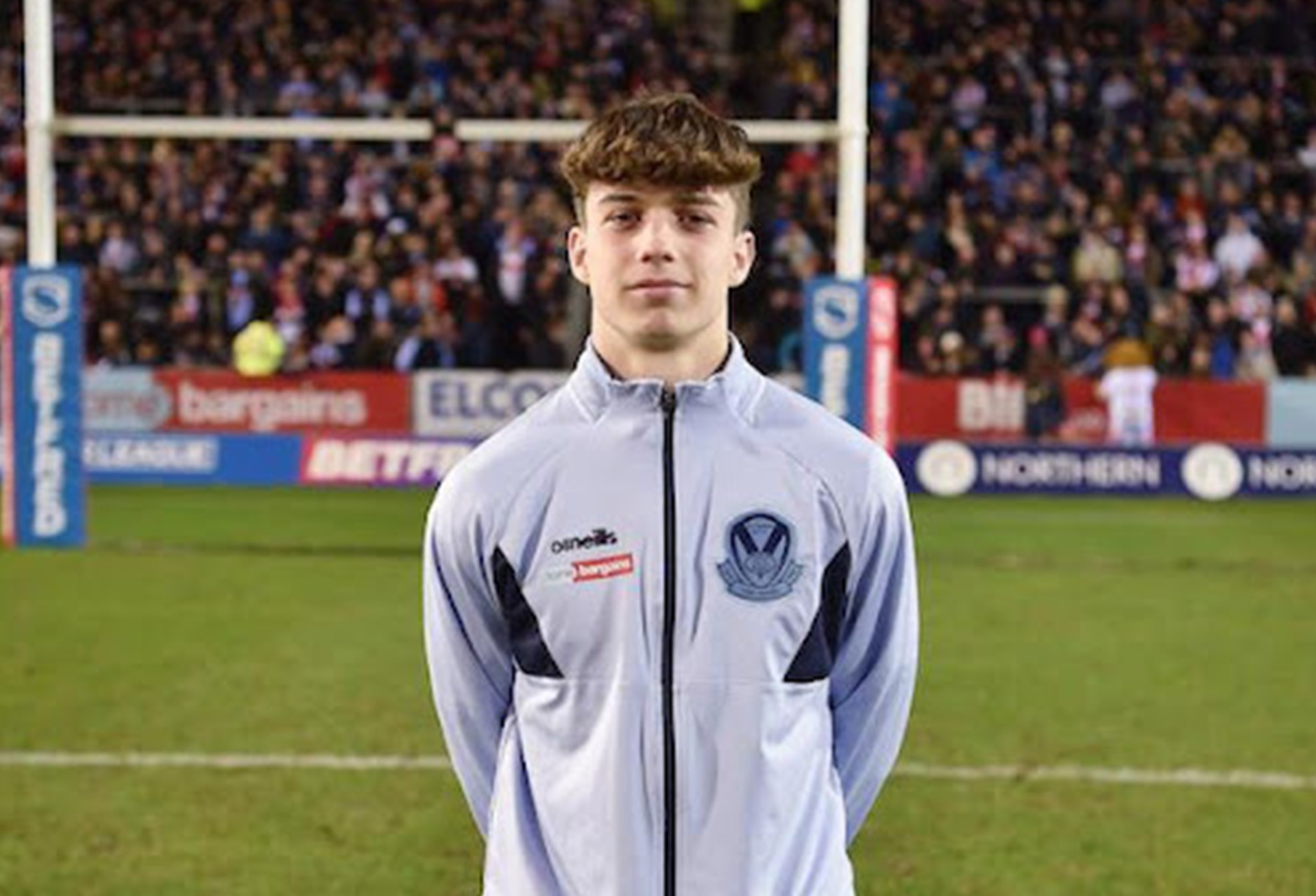 We are thrilled to share the wonderful news that Year 11 student, Louie Hudson, has secured a Rugby League Scholarship at St Helens Rugby League Club.
Congratulations Louie from all the staff and students at Co-op Academy Swinton! We are delighted for you and very proud! After hearing his amazing news, we spoke with Louie to get the story in his own words:
"I am Louie Hudson and I am an U16s St Helens scholarship player and I play in the position of scrum half. I play for my local club called Folly Lane. Being on a scholarship means a lot to me, at first I was on trial for six weeks in September 2022 and then I was able to obtain Scholarship Status.
"This is something I have been dreaming of since I was little and hopefully one day I will be playing in their first team. On 23 April 2023 I will be making my debut against the London Broncos. I am looking forward to this as it will be a new challenge for me but it will also be a day I will remember forever."

West Yorkshire
Jay-Jay - Co-op Academy Priesthorpe

Jay-Jay had some very difficult circumstances and his previous school anticipated needing additional transition support. However, he rose to overcome these obstacles and has shown resilience and maturity beyond his years.
Jay-Jay joined our first cohort of students to visit Jamie's Farm. The benefits for our young people were still unknown, being the first year doing this residential. Despite his anxieties regarding the trip, he engaged with the trip with resilience and an unerring willingness to learn and embrace all new challenges and experiences!
Following the visit, Jay-Jay began to enjoy socialising with peers and appeared to be walking taller on his return to school. Jay-Jay found his feet and has bounced positively through our school grounds since.
Key Stage 4 arrived and Jay-Jay continued to strive both academically and personally, developing into a young man of integrity and honour. He has an infectious positivity that affects all those around him, with a level of empathy that surpasses his peers.
He will be missed by peers and staff alike, and he leaves us with every confidence that he'll become an asset to any future establishments he studies or works in.
His resilience displayed through sitting his GCSE's has been incredible to see and we're sure he will go onto great things!
Henry Rugg - Co-op Academy Priesthorpe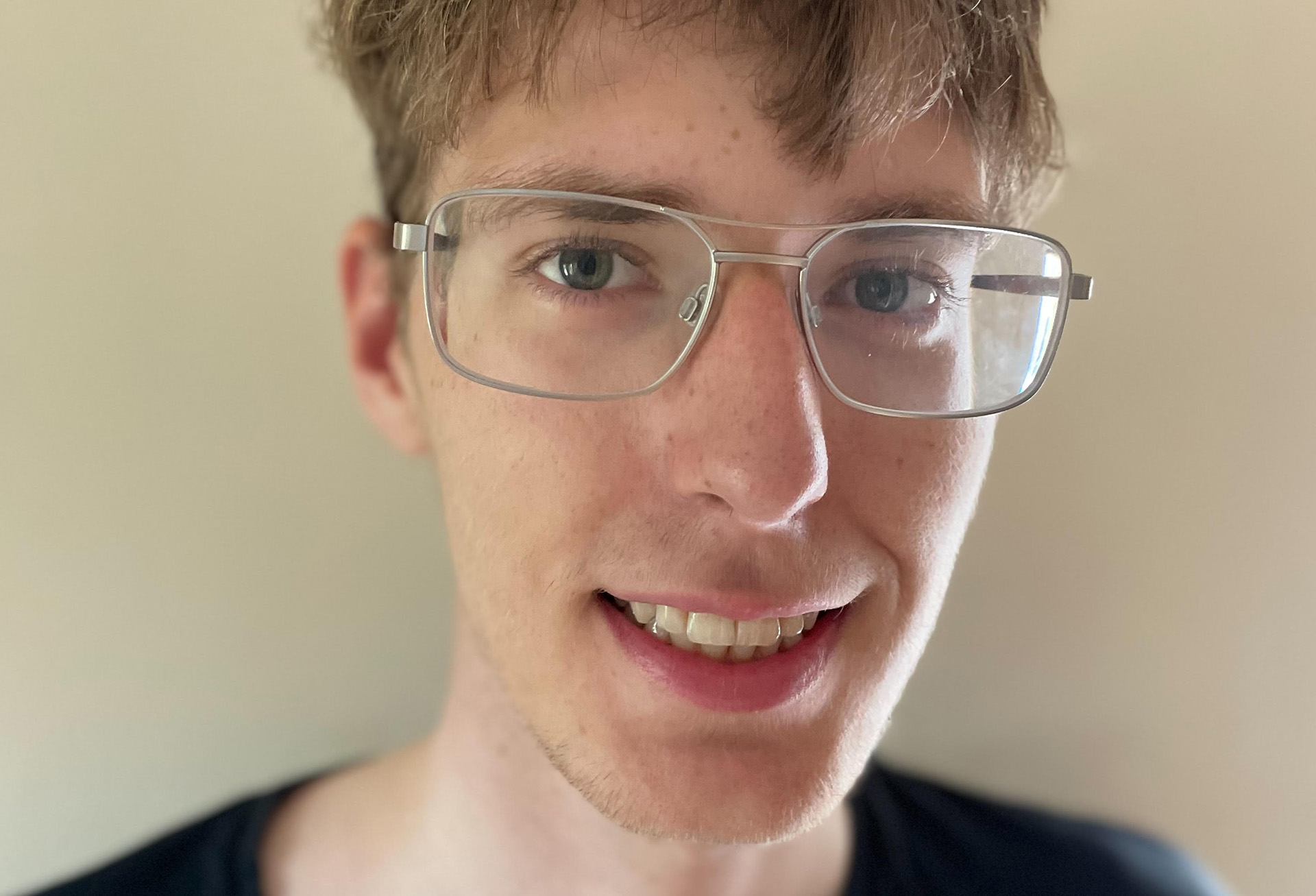 The Sixth Form at Co-op Academy Priesthorpe is incredibly proud of the offer they provide to Post 16 learners. Their aim is to raise aspirations, develop their skills and attributes and provide opportunities for students to develop core values such as resilience, confidence, integrity and citizenship.
Henry Rugg studied at Co-op Academy Priesthorpe during Key Stage 3 and 4 as part of the South West Partnership provision and has an EHCP (Education, Health and Care Plan). Henry entered the Sixth Form in September 2021 to study the Extended Certificate in Business and A Levels in Product Design and Maths. Henry found the transition to Post 16 quite daunting, however with the wrap-around support from the Post 16 team and his Key Worker, Jon Plows, he settled quite quickly into Sixth Form life.
Henry's Mum plays a key role in Henry's daily organisation and liaised frequently with the Academy, which supported Henry's day-to-day success as a Post 16 Learner. During his time in the Sixth Form his Mum was faced with a very challenging health condition which understandably had a huge impact upon Henry's wellbeing and focus in school. Henry has a loyal group of friends in the Sixth Form and with their kindness and the support of the Post 16 team and his teachers, as well as his own perseverance, he still attended school every day and persevered to make progress on his level 3 courses. Jon Plows carried out frequent support meetings with Henry to check on his wellbeing and liaised with Henry's Mum at any point in the day so that the strong communication between the Academy and home could continue.
In some lessons, Henry had 1-2-1 support during Year 12 to assist him to become a more independent learner and meet the demands of his Post 16 courses. A member of support staff, Daryll Thompson worked closely with Henry during this time. As Henry progressed to Year 13, Darryll chose to voluntarily support Henry 1 day a week with his work. This has been incredibly beneficial in making Henry much more resilient and independent as he has progressed throughout the year.
Henry plans to go onto university and study Games Design at Bradford University and I feel that the support and integrity shown by the staff that have worked with Henry throughout the last 2 years have been instrumental in supporting him to make aspirational decisions about his future and chosen career path. The team work and selfless determination of the staff involved have not only demonstrated all the Co-op values, they have shown endless commitment to ensure that Henry has the same opportunities as all other Post 16 learners within our care - a fantastic team effort.
Ibrahim - Co-op Academy Leeds
Ibrahim joined Co-op Academy Leeds in year 7 back in 2018 and has been a model student ever since. Ibrahim is a part of a large family, with two older siblings and three younger siblings, whom Ibrahim has helped to support.
Even with Ibrahim supporting at home, he has never missed a day at school until his family moved abroad at the start of year 11. During this time Ibrahim was not studying the same courses for 6 months.
Ibrahim came back to us in January 2023 and hit the ground running, knowing that he needed to make up ground in all of his subjects to ensure that he could get the best possible grades. This meant that Ibrahim would come to revision before and after school and would study in the Library at breaks to catch up on missed work.
Ibrahim went out of his way to ensure that he could have enough work to study and catch up at home also, and showed real integrity and self-responsibility to catch up on any missed work.
All of Ibrahim's hard work has paid off. Today he received top grades that are all 1-5 grades higher than his targets! Ibrahim achieved an incredible double 9 in Science (double award), 8 in Maths, 7 in Business and History, a 6 in English Literature and 5 in English Language and Maths.
Ibrahim said:
"I find education fun and desire to have good grades and exam results at each subject that I study. Learning new things that I never knew widens my view of the world. It provides me with explanations and knowledge of world events such as the evolution of earth's atmosphere or the discovery of penicillin and how it led to the development of other antibiotics.
I learnt a lot at Co-op Academy Leeds and the teachers are fantastic. Lessons are engaging and staff have brilliant attitudes towards students. The teachers try their best to set useful lessons for students and always help any student that may have difficulties in lessons or may have missed important lessons.
Overall, it doesn't matter where you learn, what matters is what you learn and who you learn from. Find something fun, find something that will motivate you to learn".
Alveena - Co-op Academy Leeds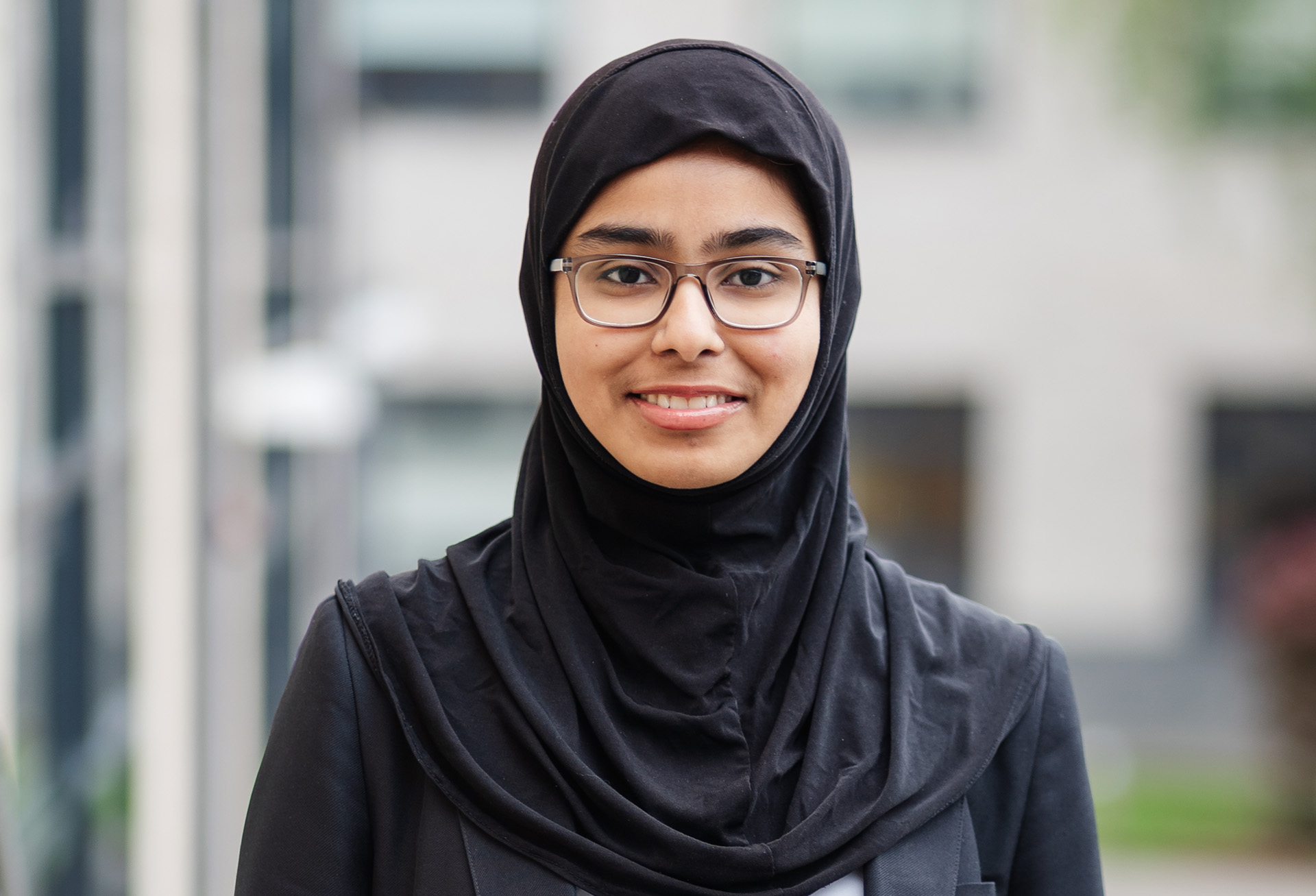 Alveena has achieved top grades in her GCSE's, with a 9 and 8 in Double Award Science, 9 in Urdu, 8 in Maths, 7's in English Language, English Literature and RE, a 6 in History and a 5 in Computer Science. This is particularly impressive given that her targets were 2's and 3's!
Alveena was born in Lahore, Pakistan. She moved to Leeds in 2018 to be with her family in the UK. Despite not attending primary school, Alveena has flourished throughout her time at Co-op Academy Leeds.
When she arrived, Alveena noticed stark differences between schools in Pakistan and the UK - detailing the consultative atmosphere within Co-op Academy Leeds. Reflecting on her early days in the UK, Alveena praised her teachers at Co-op Academy Leeds, citing their care and patience with her and her peers to ensure they fully understood and gained confidence in their studies.
When asked about her childhood education, Alveena laughed, citing: 'I was terrible at maths'. Fast-forward five years, she is now at the top of her cohort, with excellent predicted grades across all of her subjects.
A shy child, Alveena initially gravitated towards peers who shared her culture, listening rather than speaking to new friends:
"I stood at the side and listened, not wanting to talk. Now, I'm still shy but I'm far more confident."
When asked what gave her confidence in the early days at school, Alveena said:
"Myself. I have always believed that no one will do the difficult things for you. You have to strive to get the results yourself."
Always driven by diligence and conscientiousness, Alveena has dedicated her time to her studies, wanting to be the best version of herself and achieve her academic goals. She also praised the support and encouragement of her Mum, a science teacher, who has tirelessly supported her throughout her education.
Alveena's goal of becoming a doctor is well on its way. She is excited to study Biology, Chemistry, and Maths at Notre Dame Sixth Form College. At school, Alveena loves Maths and Science, but also English, citing her teachers as a key source of inspiration.
"Alveena is astounding. Her thirst for knowledge seems to be unquenchable. Not only is she conscientious and industrious, she is compassionate and regularly helps her classmates and friends to achieve too. No challenge is insurmountable for Alveena; she will always find a range of imaginative solutions and act on them with grace and sincerity."
Zainab - Co-op Academy Southfield
I am a Year 14 student at Co-op Academy Southfield, and I want to become a teacher. I want to work with young children with SEND (special educational needs and disabilities). I believe we are all one. We are all equal but unique in our own ways and we can achieve great things when we put our mind to it.
Whilst in Sixth Form I have been a buddy to younger students, worked in the school library, been on the student council and worked as a receptionist. I have learnt different skills in English and Maths, and have developed my confidence as well as learning about how to be an adult outside of Southfield. I have sat English and Maths exams and this summer I am hoping to improve my grades. This year I am also proud of taking a lead role in the school panto and learning a script, rehearsing for months and trying our best to give the audience an extraordinary experience!
I want my friends in Southfield to think about their dreams and ambitions, and to think about what qualifications or skills they will need to find their passion and do what makes them happy and take care of themselves in adulthood after leaving sixth form.
Anyone can work towards achieving their dreams. For people with disabilities it might seem impossible, but having a disability doesn't stop you from dreaming about your future. People with disabilities can be actors, teachers, singers and even the prime minister.
Betu Kesete - Co-op Academy Grange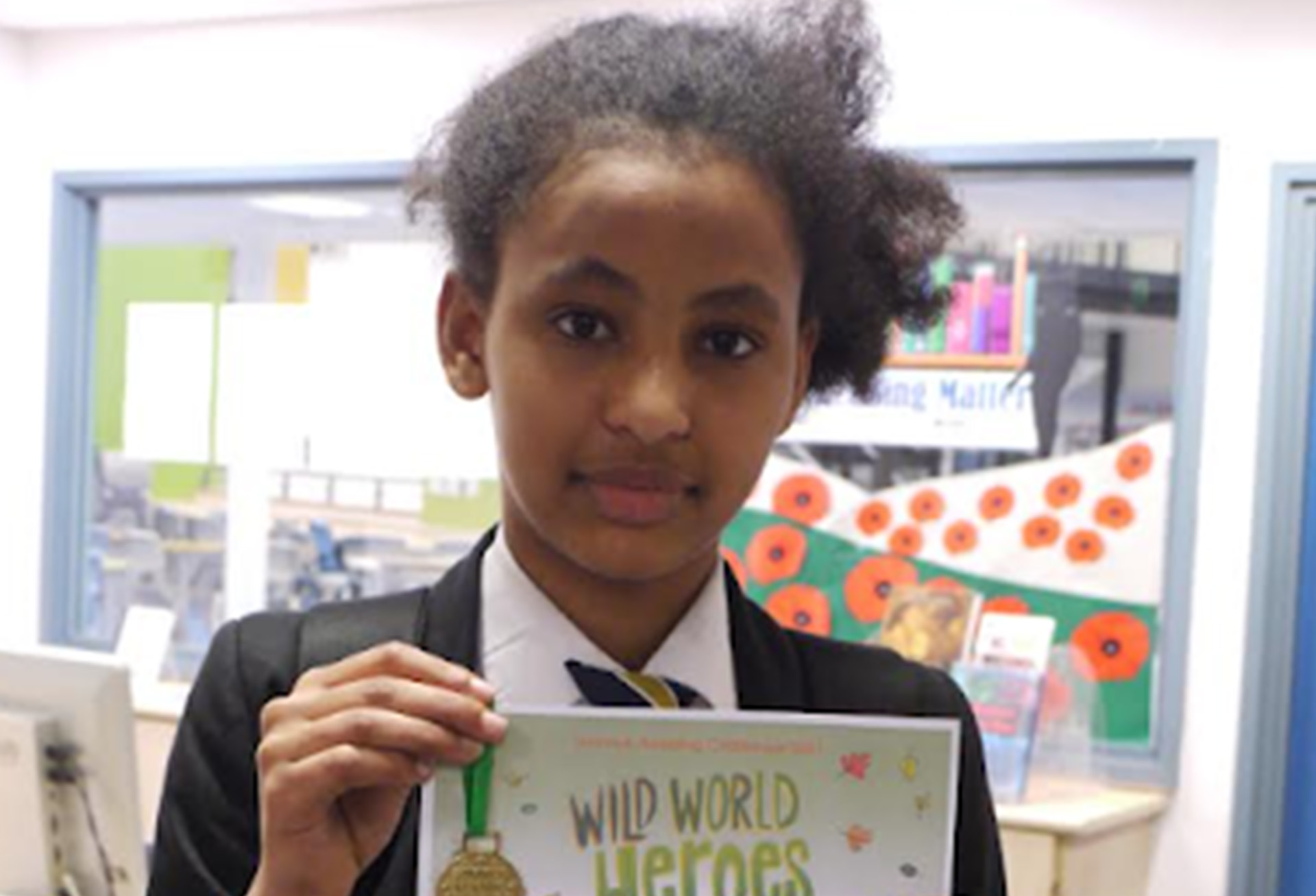 When Betu arrived in the UK she couldn't read or speak English and as such she was eager to develop her English Language skills. Her hard work and dedication have paid off!
Betu worked at her reading and took part in the Summer Reading Challenge in 2021, and was awarded a certificate and prize for independently reading the requisite number of books during the Summer holiday.Betu went on to join First Story in 2021/2021 to develop her creative writing, she was awarded 2nd place in a country-wide Eco Poetry competition for her poem 'Motherlands'. She has become a strong writer, contributing many pieces of work to the anthology we produced that year.
In 2022/2023 Betu became a Young Ambassador for First Story, working alongside our writer in residence to help with the workshops and advise younger writers with their editing. She has been awarded one of the coveted places for the Summer Residential Writing scheme during the forthcoming Summer holiday, which takes place in the house where Ted Hughes used to live.
Betu is an avid reader, and a frequent visitor to the library. She is ambitious and wants to work in the medical profession, part of her current reading is Grey's Anatomy. She is a kind and considerate student, always willing to help others and is always full of questions.
Shahid Hemati - Co-op Academy Grange
Shahid is really excited to be going to Bradford Academy next year, as part of the Pro-Elite football academy through Rochdale Football Club and playing in a league against other sides from professional football clubs.
He came across the opportunity when the Academy came into Grange to talk to students about the chance to apply. He applied and got a trial with around 300 other students. This involved an hour's free training, some drills and a match to assess his abilities, as well as a meeting with the staff. He was delighted to be one of only 30 students chosen!
Shahid still remains focused on the academic side of his future as well, whilst he would love to make it as a footballer, he knows that he needs to keep pursuing other goals too. Whilst at the football academy, he is going to study Sport and Business and has already checked that this will offer a route to university where he wants to work towards becoming a physiotherapist. That said, he also has a trial for the Manchester United Academy in the summer.
Shahid is clear that he needs to stay fit and makes sure he works on his warm-up and cool-down exercises to avoid injury.
Amongst this success, Shahid has had some more challenging experiences. He came to the UK aged 3 from Afghanistan in an area where war and fighting was commonplace and sadly, quite normal to him and his family.
Shahid is clear on what is important to be successful: Have a clear goal that you always keep in mind, always try your best, and never give up, no matter what anyone says.

Staffordshire and Merseyside

Liam Bundy - Co-op Academy Bebington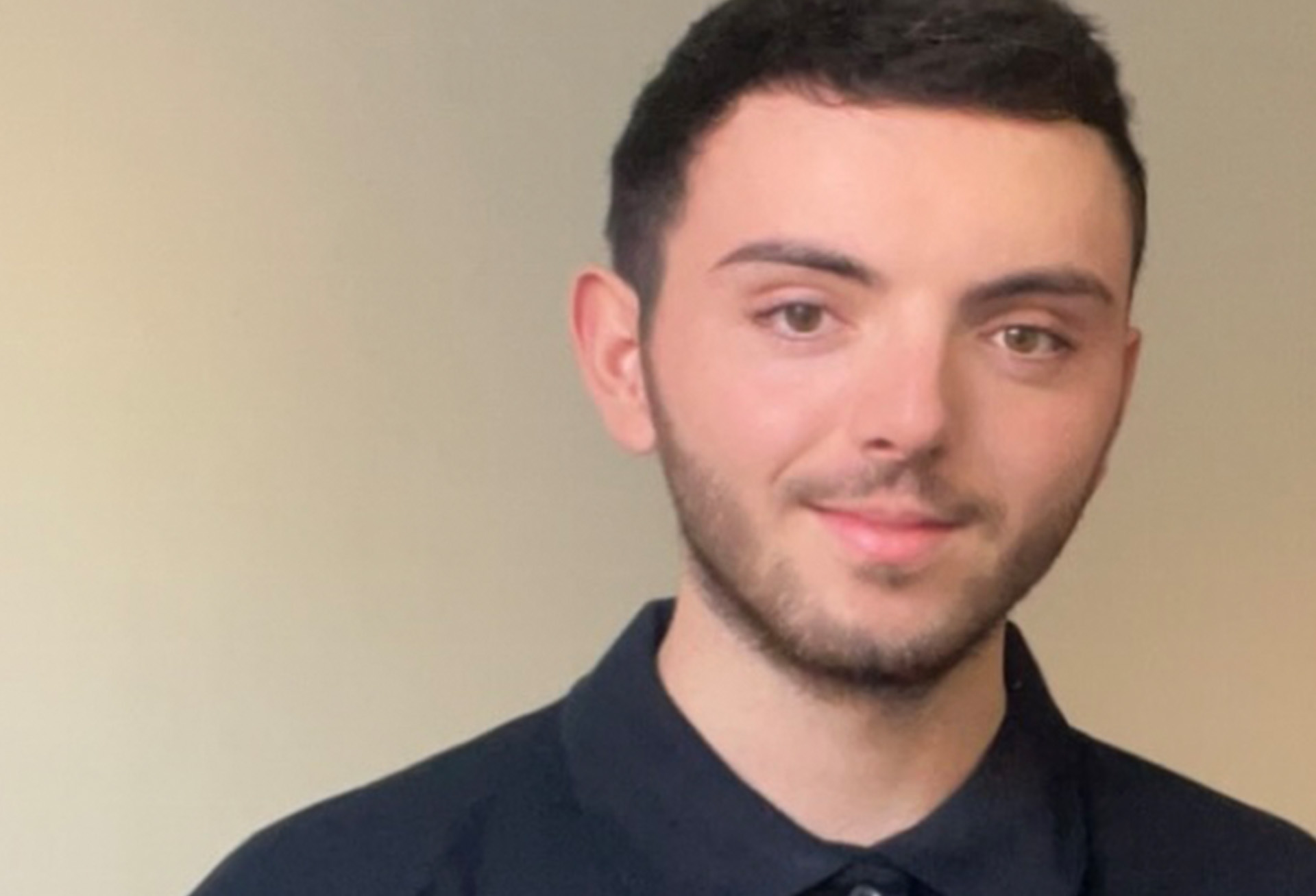 Liam is an outstanding student. He has always been determined to achieve his career goals to become a paramedic. Whilst in lock-down during 2020, he used the experience to engage with a number of online activities including virtual work experience with our local health Trusts, getting involved with an initiative called 'Creating Careers'.
He also took part in online/virtual experiences with Medic Mentor and he never let the experience of lock-down distract him from his aspirations to succeed. He was also a volunteer for Northwest Ambulance Services, as part of a programme to develop and deliver a better patient experience. Liam was able to demonstrate building relationships with the community; communication and personal growth. Liam was very future focused and he used his desire to succeed to feed his academic and extracurricular activities towards succeeding together to achieve a place at university to study paramedic science. He took every opportunity offered with enthusiasm and commitment towards his goals. He studied advanced level applied courses/BTEC in Performing Arts, gaining a Distinction* showcasing his excellent communication skills and his ability to empathise with others; an excellent trait for his career success! He also achieved Distinction grades in both Applied Science and Health and Social Care. He really does demonstrate the school's motto of 'Shaping Exceptional Futures'. He truly deserves the recognition and this award.
Shea Carter - Co-op Academy Stoke-On-Trent
Shea Carter's GCSE Results have helped him to secure a scholarship to Pangbourne College.
Through his time at Co-op Academy Stoke, he has been an integral member of the Co-op Young Leaders programme. Shea has banked over 100 hours volunteering as a Young Leader, supporting in all sorts of ways such as organising fundraising events, supporting Year 7 students upon their arrival at the academy, and acting as quizmaster!
He has been a central member of the student council throughout his time at the academy, and has been especially notable for his work on equality, diversity and inclusion. In addition to being a pioneer behind the school's first Cultural Diversity Day, Shea was also one of the authors of our student-penned Equality Charter - a document which now sits at the centre of the academy community.
Shea has secured a full scholarship to Pangbourne College boarding school for his A Level studies, and is planning on continuing his studies in Maths, Physics, Computer Science and Product Design, before going onto university and an eventual career in engineering or computing.