Co-op and Hubbub partner up to launch Community Fridges across the UK

And the first one was opened at Co-op Academy Failsworth!
And the first one was opened at Co-op Academy Failsworth!
This week Co-op and environmental charity Hubbub announced a major new partnership to fast-track the expansion of community fridges across the UK.
Co-op Academy Failsworth Headteacher Phill Quirk said "We are delighted to open our Community fridge which is open to support members of our community. We are really proud of the food donations from staff and students to get this started and the ongoing donations they will provide. In addition we are really pleased with the support from the Co-op and Hububb in supporting this community project."
Community fridges are open to everyone in communities – without any need to be referred or having to prove eligibility – to share fresh food that would otherwise have gone to waste. The food is donated by businesses and the community – with Co-op donating surplus food from its stores.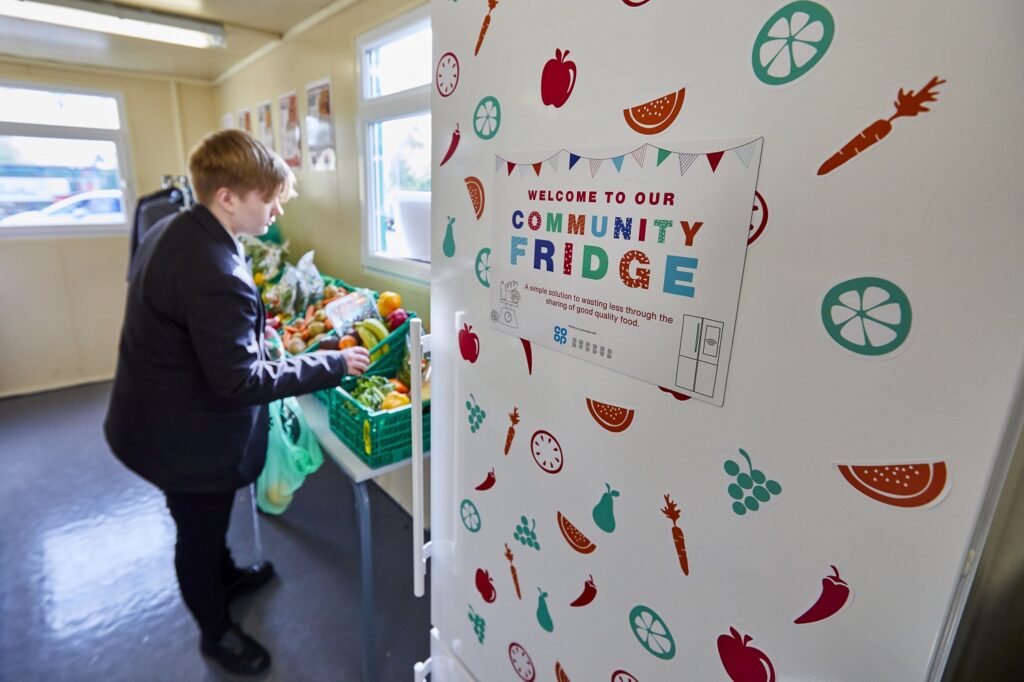 Steve Murrells, Co-op Group Chief Executive Officer, said: "Thanks to our members and customers, we're delighted to be partnering with Hubbub on such an innovative scheme bringing communities together, empowering people towards community-led food solutions that will help to build community resilience.
As a co-operative, we recognise our responsibility to make a genuine difference and have already made a number of interventions to help tackle food poverty and create fairer access to food, through our food share partnerships and our donations to Fareshare.
However, our work in our local communities has shown us that to really make a sustainable difference we need to co-operate with others to build the resilience needed for the future."
For the launch at Co-op Academy Failsworth were joined by Co-op Group CEO Steve Murrells, Hubbub and Co-op Academies Trust CEO Chris Tomlinson.
Chris Tomlinson, Co-op Academies Trust CEO said at the launch– "Co-op Academy Failsworth are really supporting their local area by developing a new community fridge in partnership with Co-op and Hubbub. A real credit to the community and showing you care.
It's a great opportunity for the students to get involved, build their skills and give back to their community. It's exactly what cooperation is all about"
This is not the first time Co-op has helped to improve fairer access to food for everyone. Co-op played a vital role in Marcus Rashford's Stop Child Poverty taskforce supporting his campaign for free school meals, leading the pack by funding over £3m of free school meal vouchers for Co-op academy students.
Co-op also topped up the value of the government's Healthy Start vouchers by adding £1 to every voucher spent and is continuing to do this after the recent government uplift, giving families access to more healthy and nutritious food.
Following the launch at Failsworth this week, an impressive 15 new community fridges are set to open their doors this month, including one in Wythenshawe, South Manchester – the home turf of Marcus Rashford, who has backed the partnership.
Co-op Academy Failsworth Family Liaison Officer Joanne Farnworth is very excited for what this new venture means for the Academy- "Co-op Academy Failsworth Community Fridge will be the hub of the community where families can access free food supporting the Marcus Rashford campaign to end food poverty.
The Community Fridge working in partnership with Hubbub is also the perfect outlet to help reduce wastage from the supermarkets and redistribute this food to the community. This will also be the outlet for our uniform exchange as we work towards becoming a Green Flag school to reduce the amount of unwanted uniform that ends up in landfill"
For more information on The Community Fridge Network, including a map of fridge locations and advice for those interested in setting up a community fridge, visit: www.hubbub.org.uk/the-community-fridge